This article is under construction.
Please excuse its informal appearance until it is complete.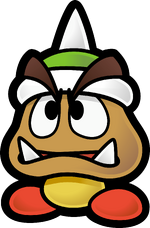 Spiked Goombas
are enemies found in 
Paper Mario: The Thousand-Year Door
.  They wear green helmets on their heads to protect themselves from oncoming jumps.  They can do spikebonk, which can poison.
This article is a stub.
You can help by expanding it.