This article is under construction.
Please excuse its informal appearance until it is complete.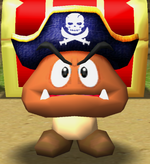 Pirate Goomba
is a pirate goomba. The most well-known of this species is Captain Goomba from
Mario Party 8
's Goomba's Booty Boardwalk. Pirate Goomba is a Pirate Goomba
This article is a stub.
You can help by expanding it.