This article is under construction.
Please excuse its informal appearance until it is complete.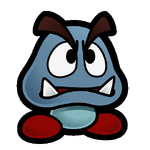 Gloombas
are blue Goombas primarily appearing in underground areas. In
Paper Mario
games, they are tougher than regular
Goombas
. It is stated that they can poison the player. However, this is false.  Like their normal Goomba counterparts, there are para and spiked versions of these Goomba variety.  They are only capable of headbonking.